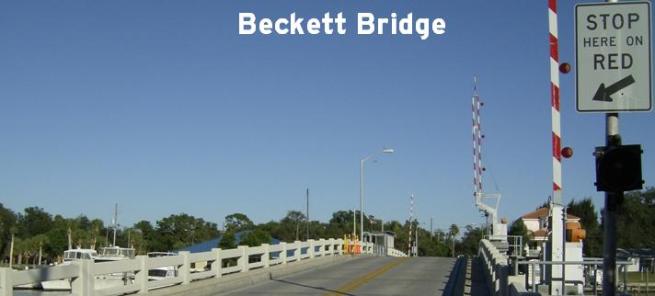 Beckett Bridge, Tarpon Springs
Carrying Riverside Drive/North Spring Blvd. over Minetta and Whitcomb Bayous in Tarpon Springs, the Beckett Bridge was originally constructed as a wooden bridge with a concrete pier and the steel drawbridge span in 1924 and the wooden bridge was reconstructed with concrete as the current low level drawbridge in 1956. The Beckett Bridge is named after a former Pinellas County Commissioner, E. H. Beckett, who was chairman of the Board of County Commissioners way back in 1924. After all, Tarpon Springs is well known for its Greek flavor and heritage; a visit to Tarpon Springs including the Sponge Docks and the shopping district along Dodecanese Blvd. makes a great day trip.
What makes the Beckett Bridge unique over all of the other drawbridges in Pinellas County? Perhaps you may have taken a drive around the Tarpon Springs area and found this little drawbridge tucked away crossing one of the many bayous of Tarpon Springs!
First, the Beckett Bridge does not have a full-time bridge tender on duty. Tall boats that reside on the docks of Minetta and Whitcomb Bayous that want to access the Gulf of Mexico (by way of the Anclote River upstream) have to provide notice to Pinellas County - the owner of the Beckett Bridge - two hours prior to requesting a bridge opening.
Second, the Beckett Bridge is the only drawbridge not on the Gulf Intracoastal Waterway in Pinellas County. The Beckett Bridge is there so that homeowners who have docks on Minetta or Whitcomb Bayous and have tall mast boats can pass with the drawbridge opened.
Third, the Beckett Bridge features a single leaf movable span rather than the standard double leaf movable bascule span found on other drawbridges in Pinellas County. The single leaf bascule bridge on the Beckett Bridge is the only one of its kind in Pinellas County. (Until 1994, the title of single leaf bascule bridge was held by both the Beckett Bridge and the Sand Key Bridge in Clearwater).
Fourth, while the Beckett Bridge was reconstructed in 1956, the movable draw span is the original 1924 construction used today. The Beckett Bridge underwent repairs in 1996.
Now you are wondering where Pinellas County's best kept drawbridge secret is and how to get there. It's simple: Take US Alt. 19 into Tarpon Springs and once there, head west on West Orange Street. The street name changes after the four way stop to North Spring Blvd.; simply continue west for a little over a half a mile. Once you see the Draw Bridge Ahead warning sign with the blinker on top the Beckett Bridge will be straight ahead.